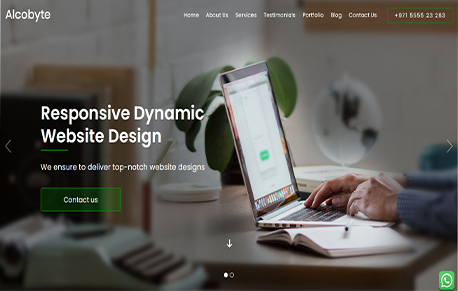 Case Study
The Challenge
Alcobyte is one of the well-known web design companies in Dubai. They specialized in creating responsive custom websites and graphic design services. They were in the top position in the web design industry in UAE. But for the past few years, the competition has raised at a very fast rate. This created a reduced market share to them and a decrease in profits.
They wanted to overcome the competition and to grow its customer base by enhancing their web presence. The average daily search rate for web design companies in the city is around 50. From this, Alcobyte manages to get 5 visitors per day. But as the competition increased their Google ranking decreased and their customers start to going away to competitors with a higher ranking.
The Solution
Rank Pointer worked on establishing a strong online presence for Alcobyte by helping them to climb up Google ranking. We realized that if we manage to get them in top 5 position for their most profitable keywords, then they can increase the number of visitors and their client base by 100%.
Our company established a strategy for 3 months to achieve the target. Our SEO consultants listed some related keywords for the company and filtered out the most profitable ones from the list. We optimized the website content with them. The search engine optimization experts we have used on-page and off-page SEO to approach targeted customers.
The Result
By the end of the first month, their website started to list on the first page of Google search results for the most important keywords and secured 7th position in most profitable keywords. At the end of the third month, they are listed in the 4th position in profitable keyword search results. Now, they are again starting to boost their customer base and giving their web design services to more clients.